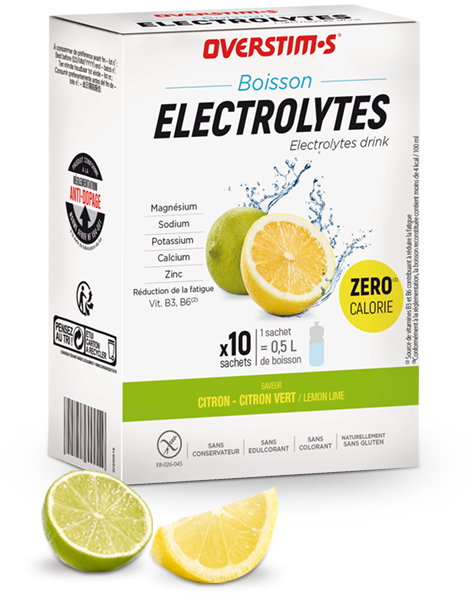 OVERSTIM.s
Zero calorie electrolyte drink
Box of 10 sachets of 8 g
Electrolyte drink (sodium, calcium, magnesium, potassium, zinc)
Zero calories - no energy intake (4 kcal/100 ml)
No preservatives, no sweeteners
Natural flavours
Naturally gluten-free
Read more
PRODUCT AVAILABLE SOON
Weight 80 g / Price per 100 g : 14,78 €
With no energy intake, the zero calorie electrolyte drink (gluten-free) replenishes minerals eliminated by sweat and is ideal for sporting activities lasting less than one hour.
The OVERSTIM.s electrolyte drink is specifically formulated to provide optimal hydration during your short-term workout sessions (less than 60 minutes).
Calorie-free (4 kcal / 100 ml), the OVERSTIM.s electrolyte drink allows you to replenish electrolytes (mineral salts) eliminated through perspiration.
The OVERSTIM.s electrolyte drink combines:
Electrolytes (sodium, calcium, magnesium, potassium, zinc),
Vitamins B1, B2, B3 and B6 that contribute to normal energy metabolism,
Bicarbonates,
Antioxidants*
OVERSTIM.s electrolyte drink is naturally gluten-free, preservative-free and contains no sweetener.
1 sachet = 0.5 litre of Electrolyte beverage
Did you know ?
The role of electrolytes in athletes
During a sports activity, the human body loses a lot of water. Electrolytes are lost through sweat and urine. If there is an electrolyte imbalance, it could lead to cramps or generalised fatigue.
The Electrolyte drink is naturally gluten-free.
OVERSTIM.s is a member of the AFDIAG for its gluten-free range of products.
* Source of vitamin C and zinc that contributes to protecting cells against oxidative stress
For 100 g
For a sachet of 8 g

Energy kcal/kJ

1158 kJ / 273 kcal
93 kJ / 22 kcal

Proteins

0,1 g

Carbohydrates

68 g
5,4 g

of which sugars

1,7 g
0,1 g

Fibres

1,7 g
0,1 g

Sodium

3888 mg
311 mg

Salt

9,7 g
0,78 g

Vitamin B1

5,0 mg (455%*)
0,4 mg (37%*)

Vitamin B2

6,25 mg (446%*)
0,5 mg (37%*)

Vitamin B3

75 mg (469%*)
6,0 mg (38%*)

Vitamin B6

6,25 mg (446%*)
0,5 mg (37%*)

Vitamin C

375 mg (469%*)
30 mg (37%*)

Calcium

3750 mg (469%*)
300 mg (38%*)

Magnesium

1888 mg (503%*)
151 mg (40%*)

Potassium

9488 mg (474%*)
759 mg (38%*)

Zinc

49 mg (488%*)
3,9 mg (39%*)

Bicarbonate

10 g
0,79 g
* VNR = valeurs nutritionnelles de référence
Lemon - lime :
Ingredients:
minerals (potassium, calcium and magnesium citrates, sodium and potassium bicarbonate, zinc gluconate), maltodextrin, natural flavours, acerola powder (vitamin C, acerola extract), vitamins (B1 (thiamine), B2 (riboflavin), B3 (niacin) and B6).
Dilute 1 sachet of Electrolyte drink in 0.5 litres of water.
Drink as of the beginning of the physical effort, in small quantities, then at regular intervals every 5 to 10 minutes.