OVERSTIM.s sports nutrition
Natural ingredients - Performance - Great taste
Recognized for 40 years for the nutritional qualities, effectiveness and perfect tolerance of its sports nutrition products, OVERSTIM.s supports all athletes by allowing them to make the most of their physical potential in training and in competition.
Natural ingredients - performance sports nutrition
OVERSTIM.s sports nutrition: healthy and effective!
Here at OVERSTIM.s, we have over 35 years of experience in healthy and effective sports energy. Our main goal is to effectively meet your energy needs, whatever sport you practise, your level, or your intensity.
Consisting of a team of passionate people, we are a Brittany-based, family-run SME with strong ties to our territory, where we design and make our products.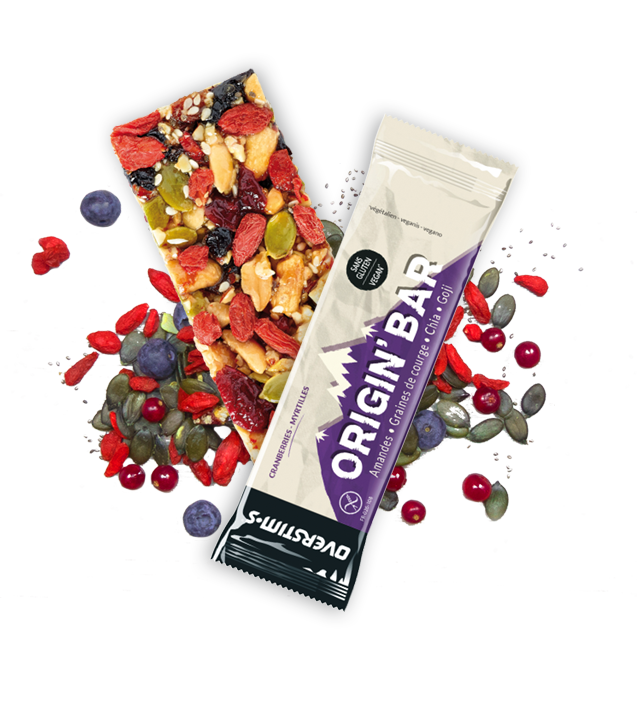 Sports nutrition
A decisive factor in well-being and performance - in the same way as a healthy lifestyle and training - sports nutrition must ensure optimal energy regardless of the sport, training level and intensity.
The energy needs for jogging have nothing in common with those required for a marathon, just as those for a short bike run differ sharply from those for mountain biking.
It is therefore important for any athlete, whatever their level, to combine training with good nutrition - namely a nutrition that meets their needs in proteins, carbohydrates, fats, minerals and nutrients!
Nutrition for an athlete is therefore a key element to meet their goals, whatever these may be. Performance is measured in results. Steady energy, no bad patches, easy recovery, easy to digest with no digestive issues, are as much evidence for OVERSTIM.s' reputation.
Choosing OVERSTIM.s sports nutrition means ensuring complete reliability and the best energy output for complete success in your sports goals.
The importance of hydration for athletes
Through perspiration, as well as respiratory exchange, as the body engages in a sports activity it gets dehydrated and undergoes significant physiological stresses, which lead to more than a simple drop in efficiency.
It has been scientifically shown that a dehydration of 2% body weight (1.3 L for a 65 kg athlete, or barely one hour of training), leads to a 20% decrease in physical abilities; in other words, a significant reduction in performance.
Don't wait until you're thirsty to drink, as this is already an advanced sign of dehydration.
Hydration should take place from the very beginning of the sporting activity, by drinking water but, more importantly, consuming nutritional elements (energy, minerals and vitamins) that are essential to the proper functioning of the body to maintain exercise capacity and prevent muscle injury.
Thanks to their composition, OVERSTIM.s HYDRIXIR sports drinks can precisely fulfil the nutritional needs of athletes. Isotonic, completely non-acidic and without preservatives, HYDRIXIR drinks are perfectly well-tolerated, even after many hours engaging in a sporting activity.
How do you achieve proper recovery after a sporting activity?
Repeat muscle strain does not give the muscle time to regenerate and leads to a gradual loss in strength. This loss in strength is all the more pronounced when energy intake during a sporting activity is insufficient or ill-suited, because the muscle then plays the role of fuel station.
After physical exercise, it is essential to adopt the right habits to help the body regenerate and prevent possible muscle injuries.
To compensate for the loss in water, it is necessary to drink after a sporting activity.
The OVERSTIM.s Recovery Drink rehydrates the body, helps eliminate waste (lactic acid, ammonia, urea...) accumulated while exercising and offsets mineral losses (sodium, potassium...).
After physical exercise, it is recommended to consume a snack rich in carbohydrates, proteins and BCAA to promote the reconstitution of energy reserves and muscle regeneration.
Optimal recovery should ideally be done within the metabolic window (30 to 45 minutes after a sporting activity), i.e. within the time frame when the body will make the most of the nutrients to ensure its regeneration.
ORGANIC sports nutrition
Since 2008, we have added a range of products with the "AB" organic farming label, to expand the OVERSTIM.s experience to the ORGANIC version, while endeavouring to combine your sporting activities with a healthy diet that undergoes rigorous controls.
Our organic products are certified by ECOCERT (an independent certification body that is recognised by the public authorities).
OVERSTIM.s has been supporting French Cycling Teams since 2015, as Official Supplier. The athletes and coaches of the French teams were drawn by the quality of OVERSTIM.s products and especially the broadness of the range on offer to meet the needs before, during and after a sporting activity.
We are proud to keep moving forward together towards our upcoming goals with a benchmark French brand, with which we can have a true discussion to meet the sports nutrition needs of our teams very precisely.

Christophe Manin
Directeur Technique National de la FFC
In our sport, nutrition is an essential factor. In one day of competition, runners need a supply of energy from a mixture of drinks, bars and gels. OVERSTIM.s allows us to meet all the nutritional needs of runners by offering a wide range of products, from Gatosport and Spordej for breakfast, to a wide selection of drinks, bars and gels to take during the run, enabling runners to switch it up throughout the season, to recovery drinks to take after the course. Runners are reporting how all these products are very easy to digest. This year, we did find a preference for Authentic bars with chocolate and peanuts. This cooperation is one that works well; our nutrition staff consults a lot with the OVERSTIM.s teams who are very quick to respond.

Emmanuel Hubert
Manager Général
In addition to our historical cooperation with OVERSTIM.s who have been loyally by our side since the early years we are assessing the chance we have to be able to rely on the sound expertise of the leading player in the world of nutrition. As part of our Sustainable Development policy (commitment to the GeSI charter set up by the Ministry of Sports and the WWF), we pay special attention to the food products offered at our provision points, and we are happy that OVERSTIM.s is associated with them as well. The contribution that OVERSTIM.s provides in terms of organic products will undoubtedly help us go even further in the search for quality nutrition.

Michel Poletti
Directeur de l'UTMB
For competitions like ours, working with OVERSTIM.s is a guarantee of quality, including helping us to limit our interventions on triathletes suffering from dehydration while running. This is a fundamental issue for the organisation, in addition to our obligation to meet all the nutritional needs of our participants. In addition to this technical element, this partnership features the collaboration of two teams of people who share the same view of sports and performance. We are naturally focused on the same goals, and this makes this collaboration as easy as it is innovative!

Cyril Neveu
Directeur de course
#overstims
We would like to hear you talk about your training, your races, your adventures and how OVERSTIM.s is part of them. We love sports, our community... it's what drives us!