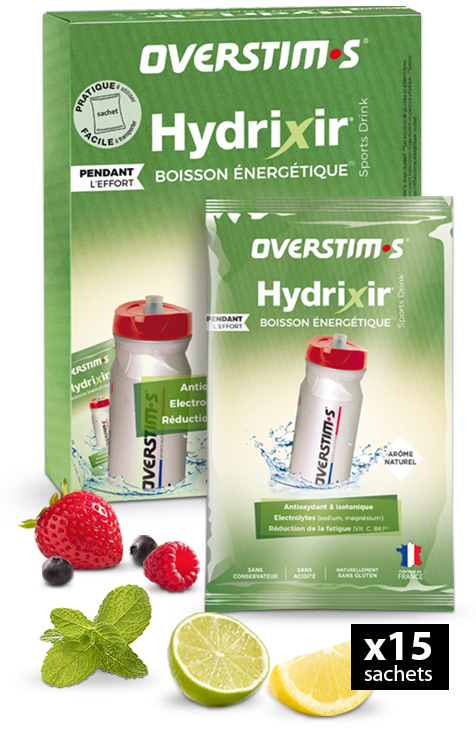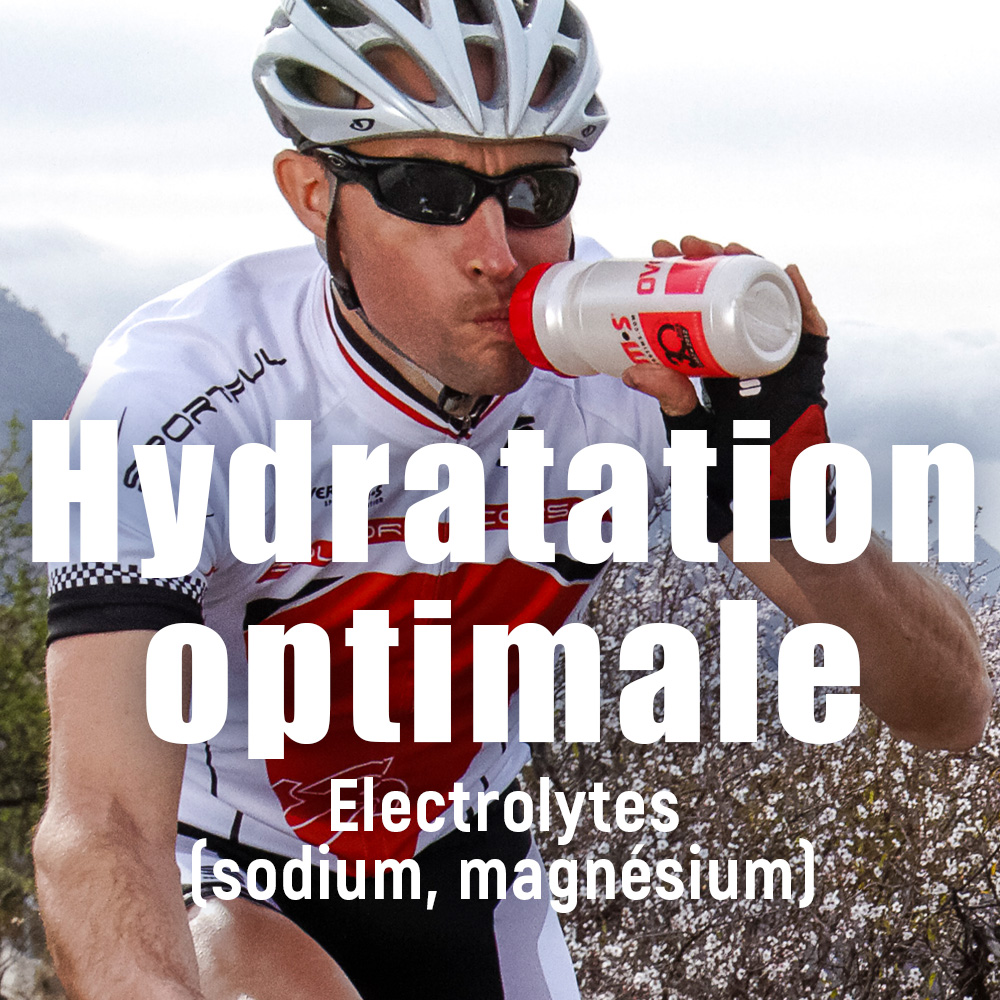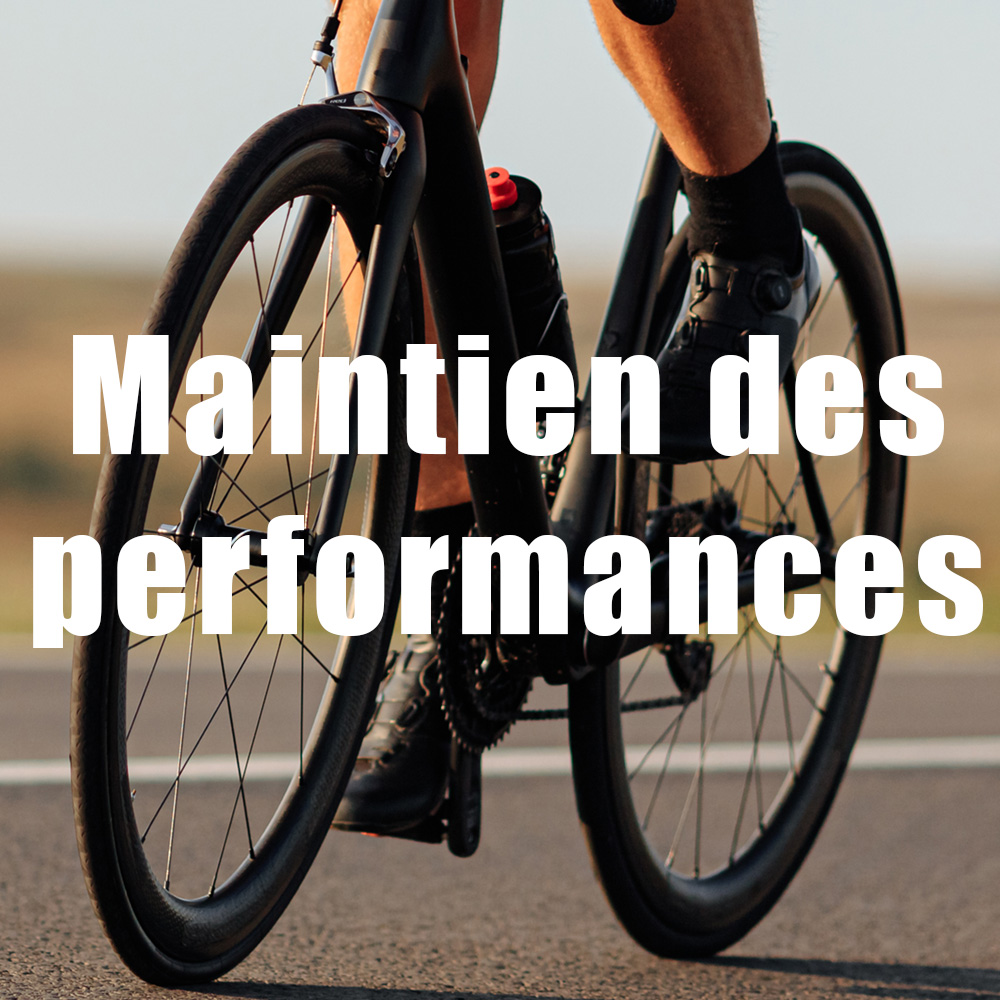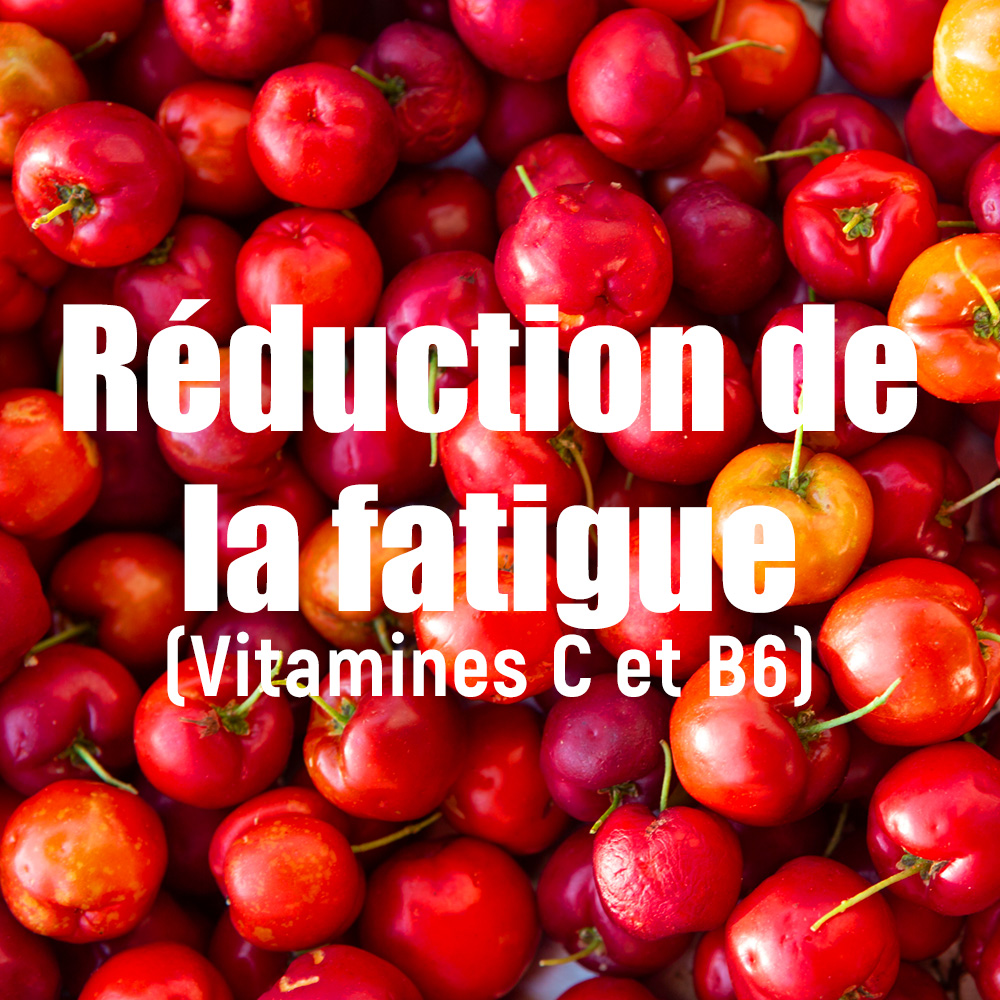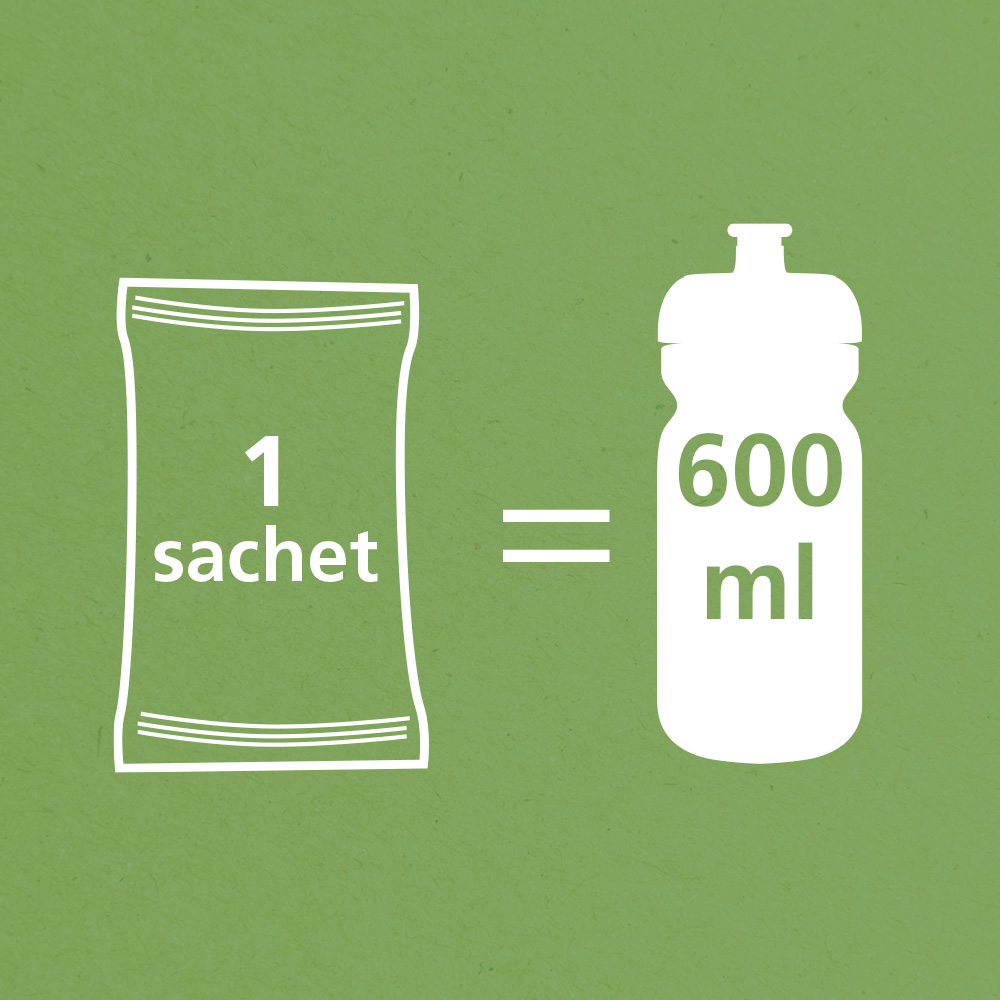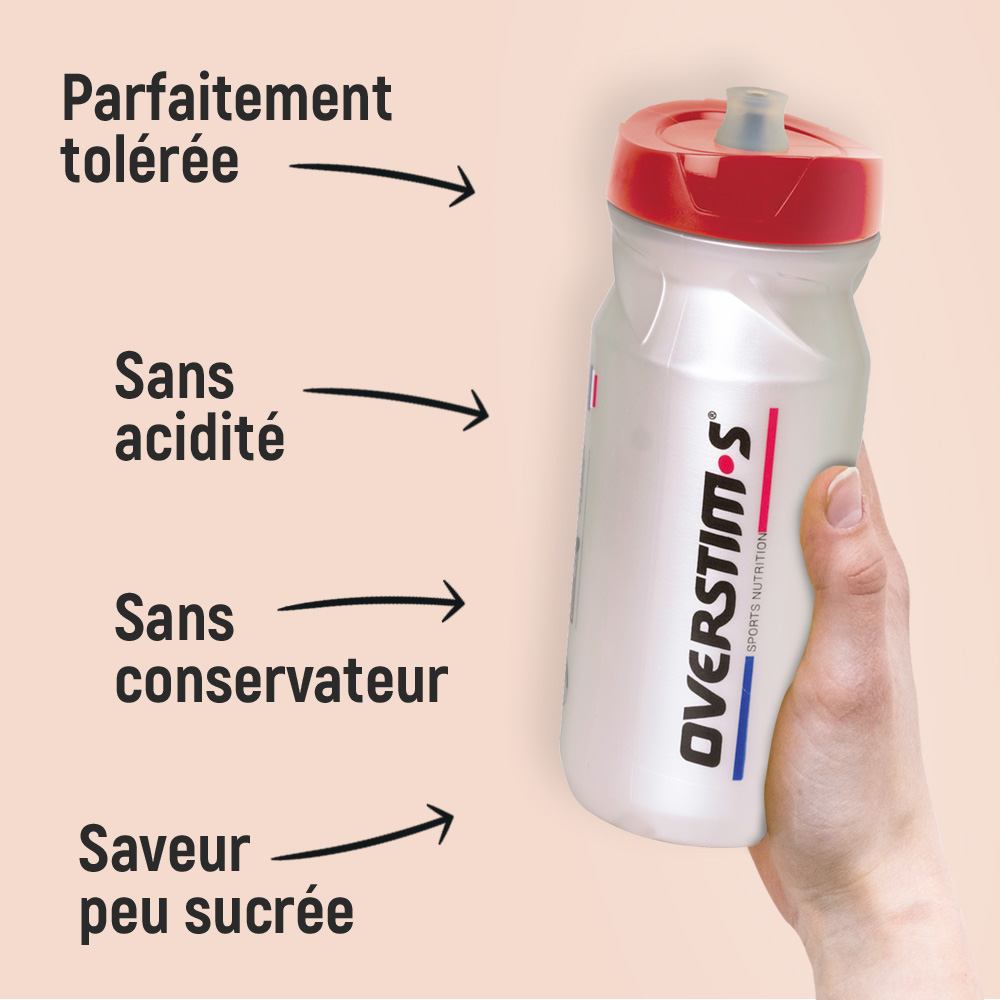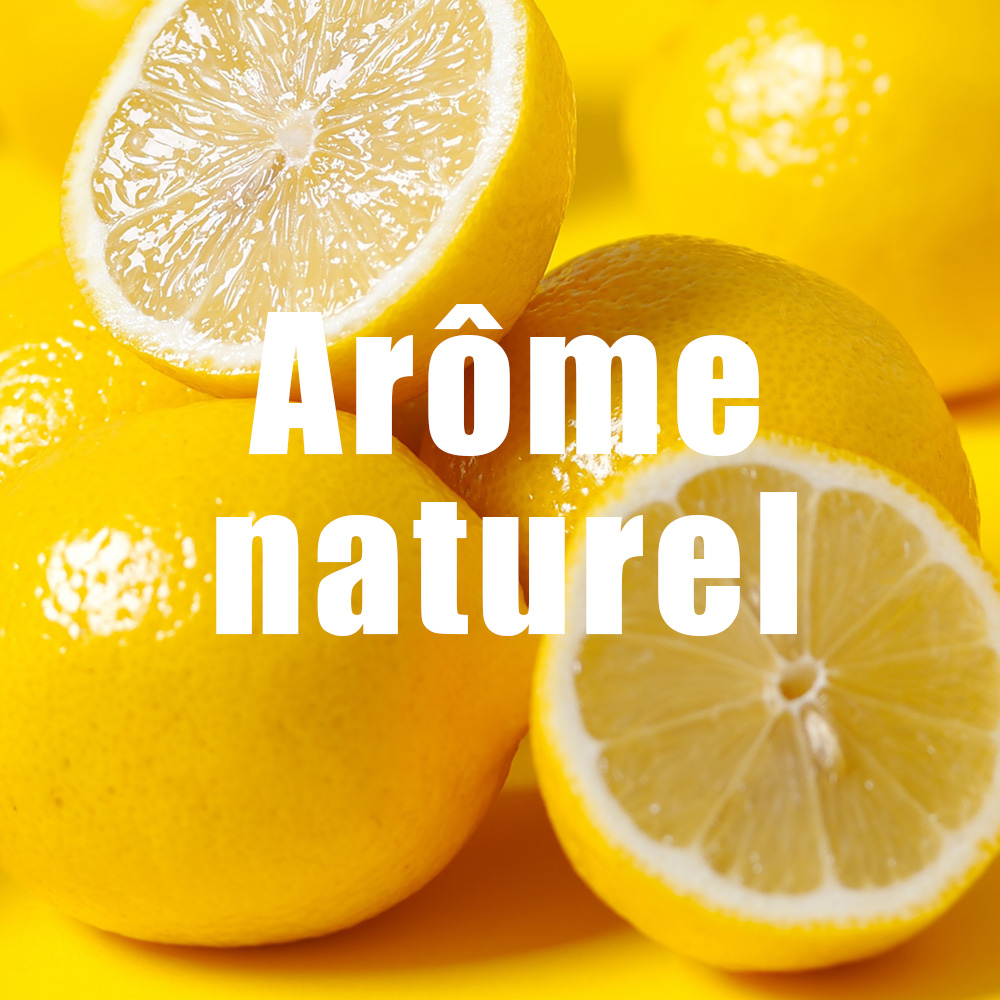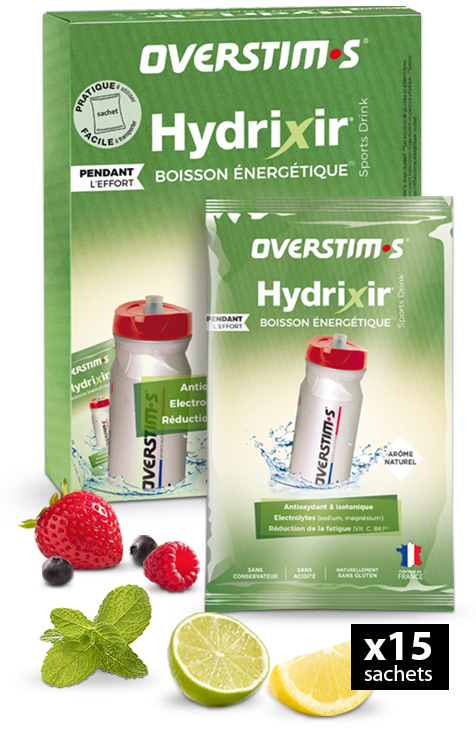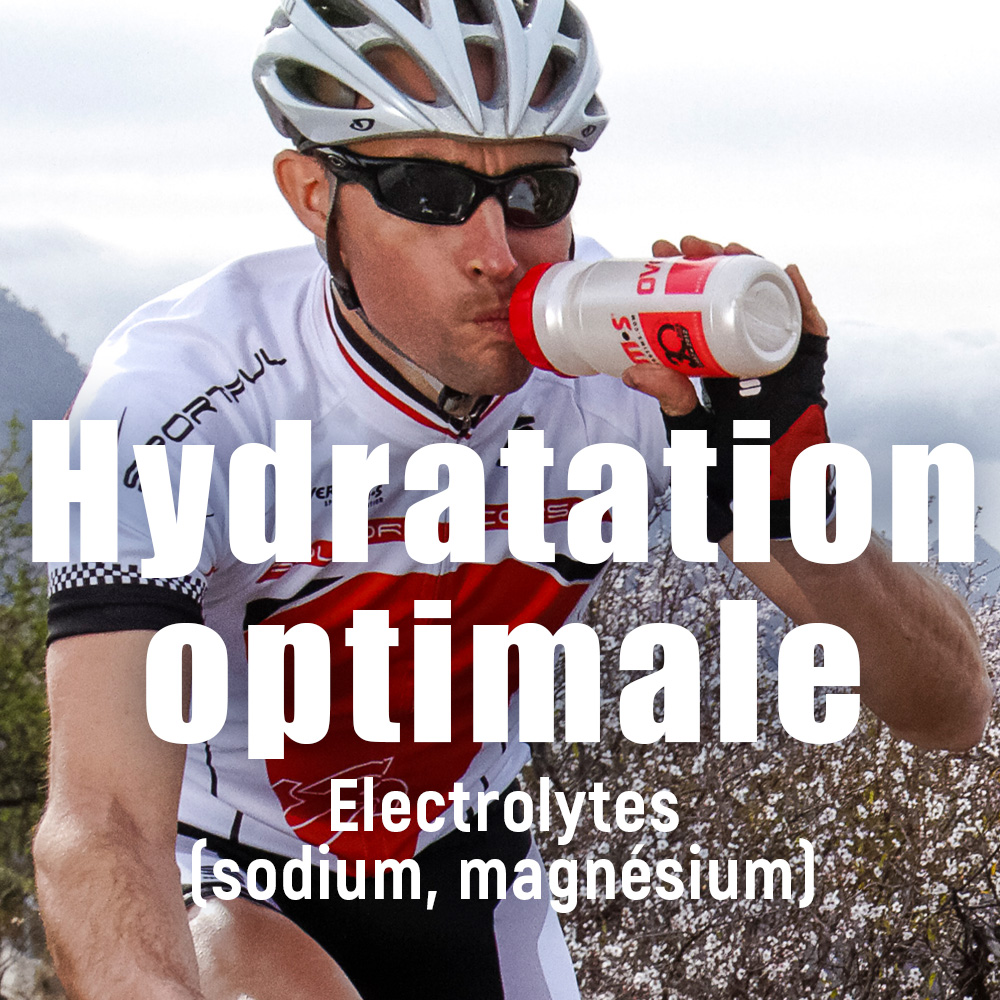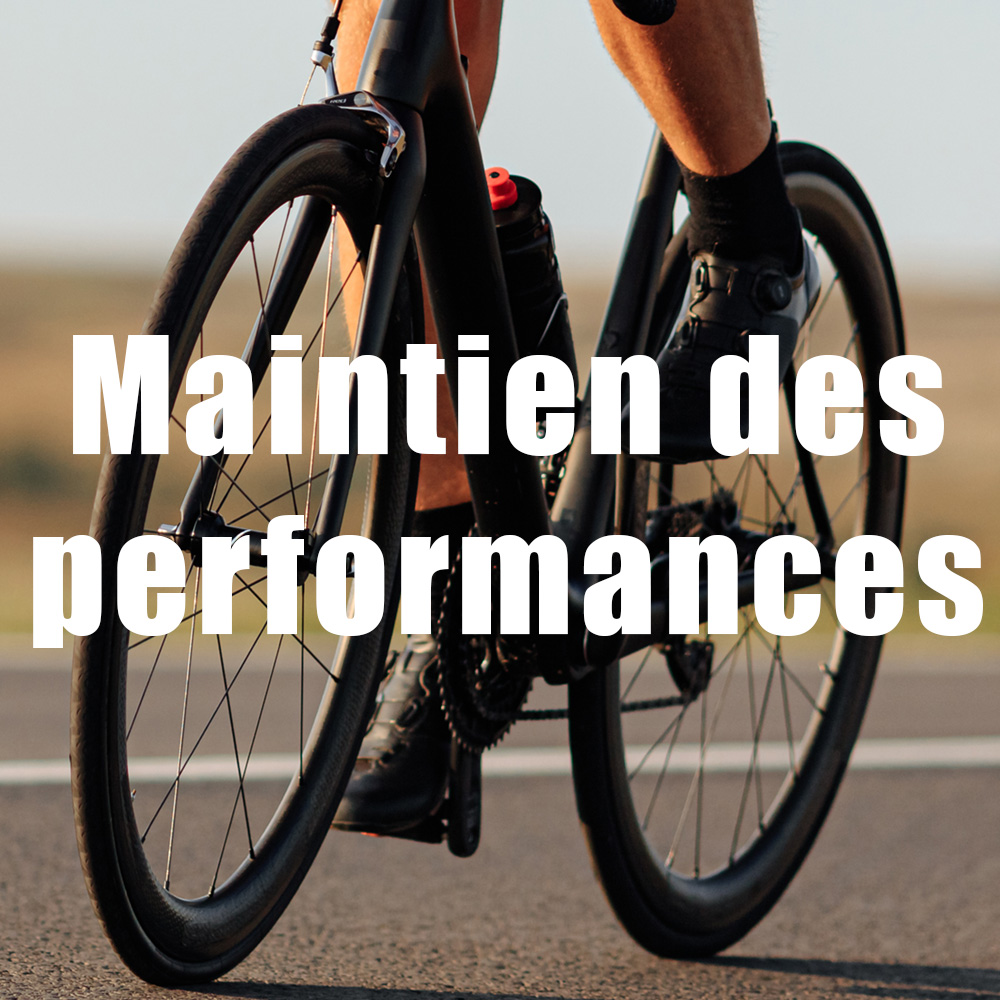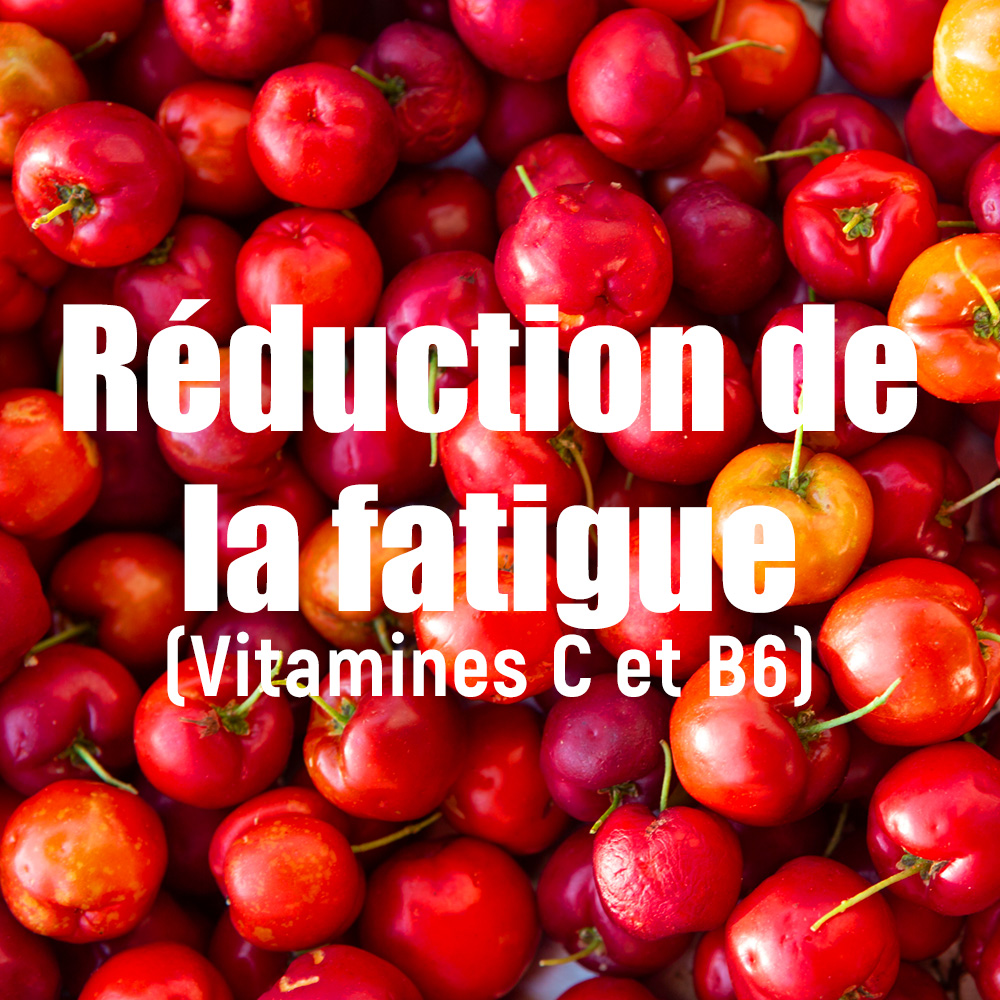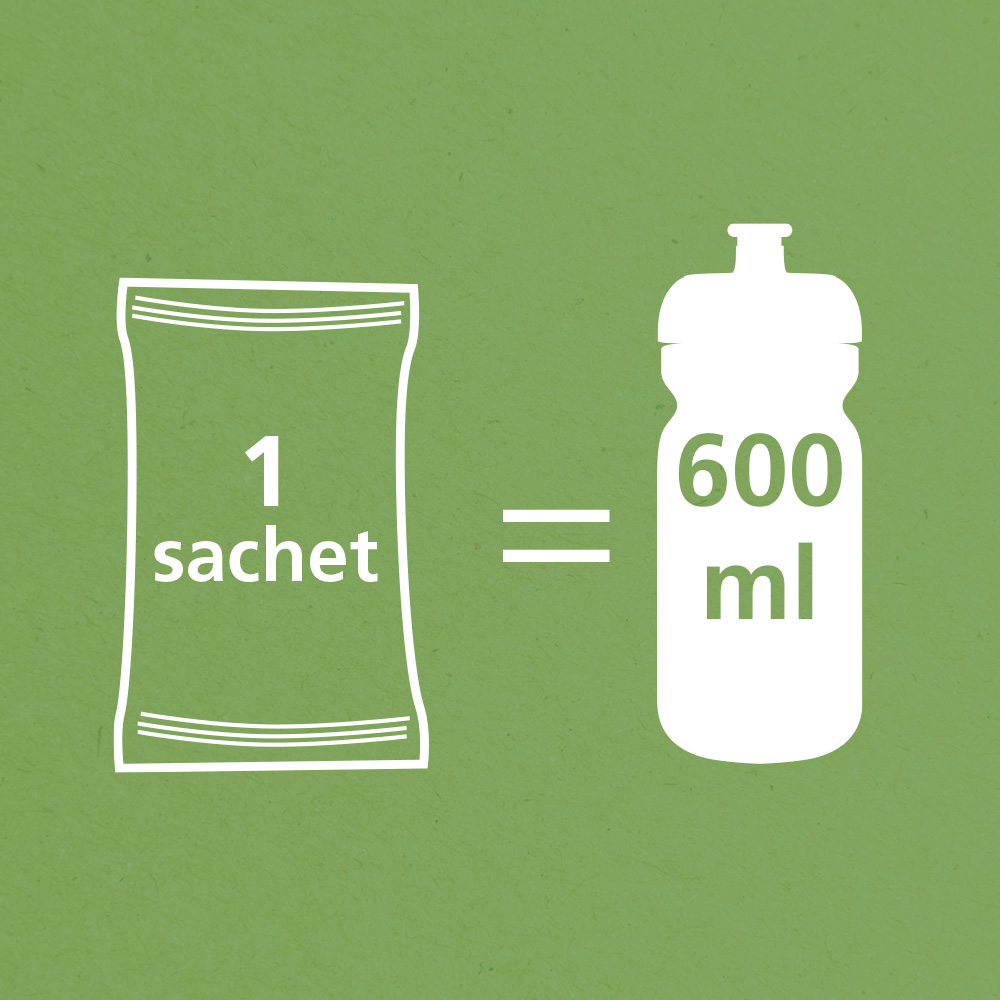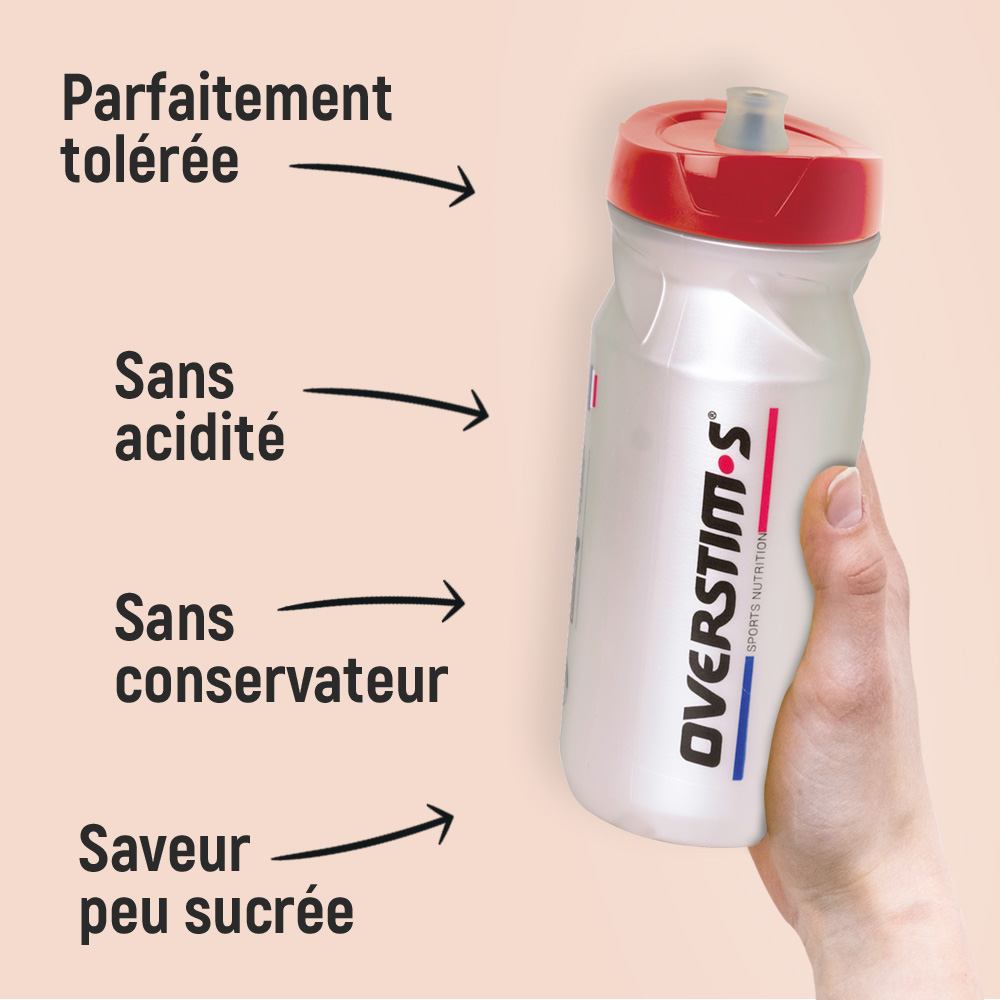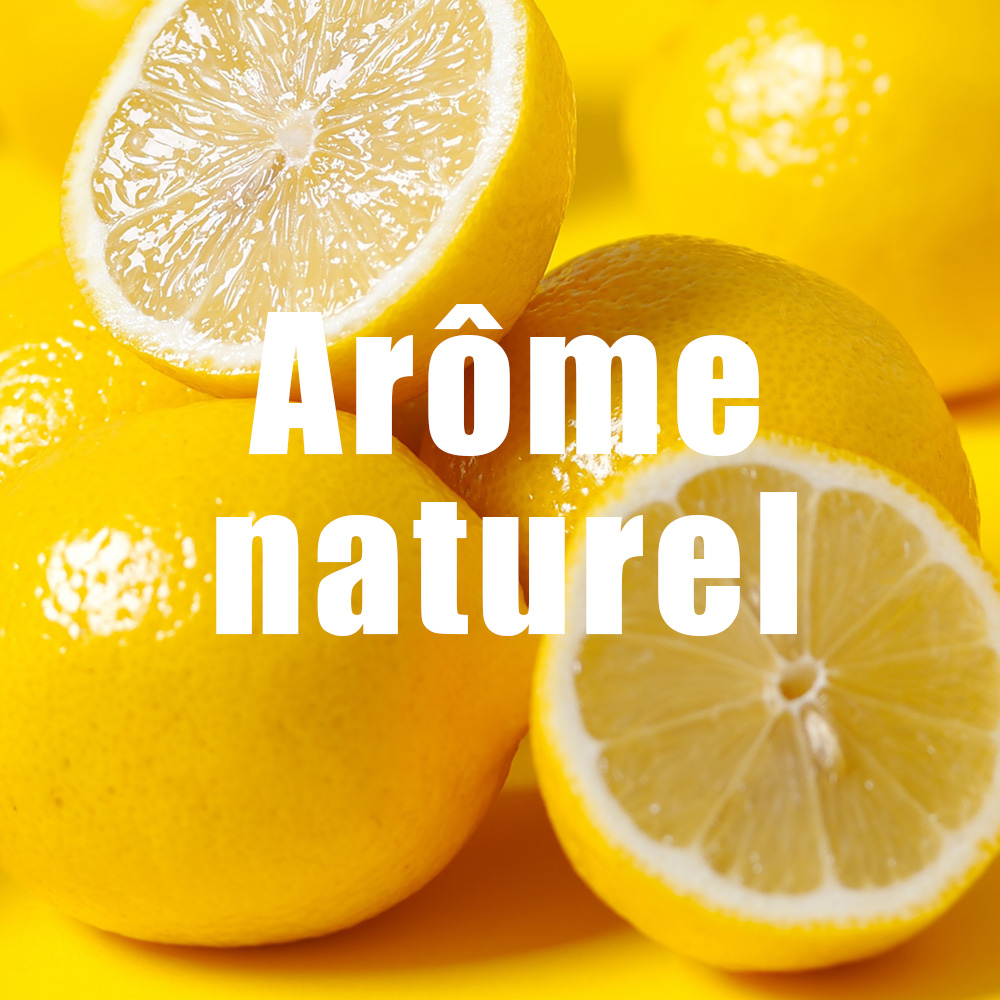 OVERSTIM.s
Antioxidant Hydrixir
15 sachets of 42 g
Isotonic and antioxidant sports drink
Electrolytes (sodium, magnesium)
Reduces fatigue (vitamins C and B6)
Non-acidic, no preservatives, no colouring
Natural flavours
Read more
In stock
Shipped on Monday 23 May 2022
Delivery in 3-5 working days
Weight 630 g / Price per 100 g : 3,95 €
Isotonic sports drink specially formulated to provide optimum hydration and maintain your performance throughout your session. Practical format, easy to use and carry.
Hydration: an essential asset for athletes
Staying hydrated during a sporting activity is essential. Poor hydration leads to a big reduction in performance and can be the source of muscle problems. Therefore, we recommend athletes drink from the very start of the sporting activity and drink regularly.
Hydration & performance (3)
The original... but better!
The new sports drink (1) Antioxidant Hydrixir (2) combines hydration and performance (3).
Its special formula with carbohydrates and electrolytes provides optimum hydration and maintains performance throughout your training session (3).
Practical and easy to carry
Light, easy to carry, resistant to humidity, Antioxidant Hydrixir(2) sachets are really practical for refilling your water bottle or bag in an instant. 1 sachet = 1 drink bottle, to make the most of sports drink wherever you are!
Perfectly tolerated
Isotonic, non-acidic (neutral pH) and with no preservatives, the Antioxidant Hydrixir (2) sports drink is perfectly tolerated and supports you during your sports training.
Electrolytes and vitamins
The sports drink (1) Antioxidant Hydrixir (2) is specially formulated with:
Electrolytes (sodium, magnesium) to replenish the minerals eliminated by sweat during the sporting activity.
Vitamins C and B6, which help reduce fatigue.
Antioxidant vitamin E, which contributes to protecting cells against oxidative stress.
100% Natural flavours
To make our sports drink, we carefully selected natural flavours so you can enjoy a unique taste experience. With no compromises.
With a large range of natural flavours, Antioxidant Hydrixir (2) combines enjoyment with results.
(1) Source of vitamin C, which contributes to normal energy metabolism
(2) Source of vitamin E, which contributes to protecting cells against oxidative stress
(3) Carbohydrate and electrolyte solutions help maintain performance during prolonged endurance training and increase fluid absorption during physical exercise
(4) Source of vitamins C and B6, to help reduce fatigue
| | For 100 g of powder | For 600 ml of drink |
| --- | --- | --- |
| Energy kcal/kJ | 1496 kJ / 352 kcal | 629 kJ / 148 kcal |
| Proteins | < 1 g | < 1 g |
| Carbohydrates | 88 g | 37 g |
| of which sugars | 48 g | 20 g |
| Fat | < 1 g | < 1 g |
| of which saturated fatty acids | < 1 g | < 1 g |
| Fibres | < 1 g | < 1 g |
| Sodium | 660 mg | 280 mg |
| Salt | 1,3 g | 0,55 g |
| Vitamin B6 | 1,5 mg (107%*) | 0,63 mg (45%*) |
| Vitamin C | 86 mg (108%*) | 36 mg (45%*) |
| Vitamin E | 13 mg (108%*) | 5,5 mg (46%*) |
| Magnesium | 415 mg (111%*) | 174 mg (46%*) |
* VNR = valeurs nutritionnelles de référence
DRINK POWDER MIX FOR ATHLETES
Ingredients:
Dextrose, glucose syrup, natural mint flavor (for mint flavour), natural peach flavour, powdered instant black tea 1% (for peach tea flavour), natural flavours: strawberry, raspberry, blackcurrant (for red berries flavour), natural passion fruit flavour, mango powder 1% (mango 64%, corn starch, emulsifier: lecithins), natural mango flavor (for passion mango flavour), natural flavours: lemon, lime, natural lemon flavouring with other natural flavourings (for lemon - lime flavour), natural flavours: lemon, lime, grapefruit, orange (for citrus fruit cocktail flavour), magnesium citrate, sodium chloride, magnesium carbonate, sodium bicarbonate, powdered Acerola juice (concentrated Acerola juice (dry extract 50%), maltodextrins), vitamins: E, B6, C, B1 (thiamine). Produced in a factory which uses nuts, milk, soy, egg, celery, sulphites. In accordance with regulations, this product contains less than 20 mg/kg of gluten.
Start drinking when you begin the sporting activity. Don't wait until you get thirsty to drink your first mouthful, because dehydration could quickly set in.
Drink one or two mouthfuls every 5 to 10 minutes.
Dose:
1 x 42 g sachet for 1 drink bottle
Drink quantity prepared:
1 box of 15 sachets: 15 drink bottles
This product - provided you are eating normally - is designed to meet the needs of immediate muscle activity during a competition or in particular environmental conditions. Cannot replace a varied and balanced diet and a healthy lifestyle. Store away from heat and humidity. Our products are made with the utmost care. If, however, you notice the slightest anomaly, please return the product in its original packaging.