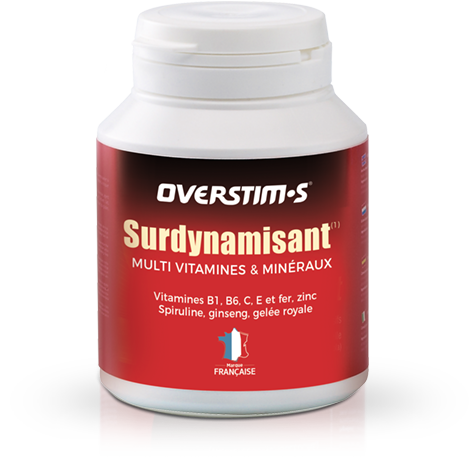 OVERSTIM.s
Surdynamisant
60 tablets
High performance active components
Rich in antioxidants
Plant-based capsules
Read more
PRODUCT AVAILABLE SOON
Weight 30 g / Price per 100 g : 59,77 €
The shape builder for absolute vitality during intensive preparation !
The shape builder for absolute vitality during intensive preparation !
The association of high performance active components (royal jelly, spirulina, ginseng, cola), minerals (sodium, magnesium, potassium, iron), trace elements and vitamins (B1, B6, E and C) gives OVERSTIM.s Surdynamisant its stimulating power for a general boosting action all year long.
It strengths :
Royal jelly stimulates physical activity and increases your resistance to stress, fatigue and infections.
Spirulina is a concentrated source of high availability nutrients (proteins, essential fatty acids).
Ginseng has a high stimulating power.
Cola for its energizing properties.
| | For 2 capsules |
| --- | --- |
| Sodium | 15,6 mg |
| Vitamin B1 | 1,3 mg (118% *) |
| Vitamin B6 | 1,8 mg (129%*) |
| Vitamin C | 66 mg (82%*) |
| Vitamin E | 11 mg (92% *) |
| Zinc | 2,6 mg (26%*) |
| Iron | 2,7 mg (19%*) |
* VNR = valeurs nutritionnelles de référence
- :
Ingredients:
coating agent: hydroxypropylmethylcellulose, powder of: cola nut Cola nitida (vent.) Schott et Endl., ginseng root Panax ginseng C.A. Mey. Rubra, flowering top of hawthorn Crataegus monogyna Jacq., bulking agent: carbonate de calcium, vitamin C, powder of spiruline Spirulina platensis (Gomont) Geitler, acidity regulator: potassium gluconate, bulking agent: magnesium carbonates, sodium chloride, powder of dried royal jelly, iron gluconate, vitamin E 50% powder, zinc gluconate, anti-caking agent: magnesium salts of fatty acids, vitamins B6 and B1 (thiamin). Made in a factory that uses: peanuts, soya, milk, eggs, fish, crustaceans, cereals containing gluten, sesame seeds, nuts, sulphites, celery, mustard, lupin, and molluscs.
2 capsules per day to be taken in the morning during a period of 1 month.