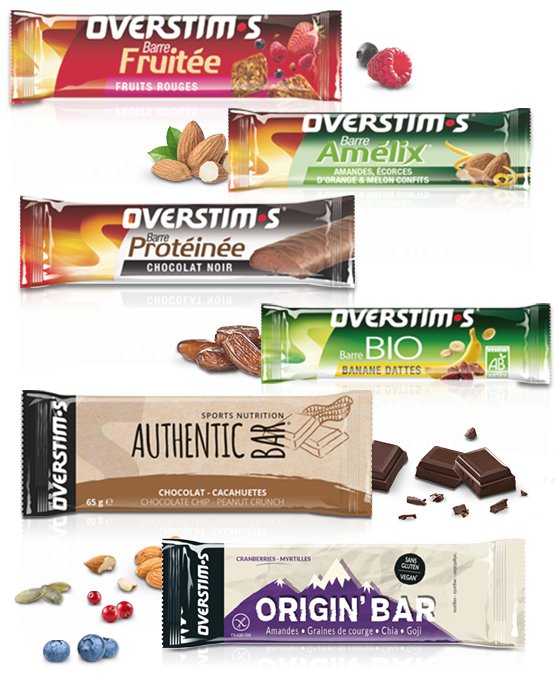 OVERSTIM.s
6 Bars variety pack
Assortment with 6 bars
The top 6 OVERSTIM.s bars come together in an exclusive assortment
Read more
In stock
Shipped on Monday 21 October 2019
Delivery in 3-5 working days
Weight 222 g / Price per 100 g : 5,65 €
Find the top 6 OVERSTIM.s bars in a limited edition pack as effective as it is tasty.
Fancy switching up flavours and textures for your sporting activity? Fancy trying out bars you've never tasted before? It's now or never with this new, exclusive limited edition pack, with the top 6 OVERSTIM.s energy bars.
In this pack, you'll find a tasty bar for each of your needs:
1 Authentic bar Chocolate - peanut: 250 kcal/Bar, antioxidant* and tasty
1 Origin Bar: Vegan**, gluten-free and with natural ingredients
1 Protein bar Dark chocolate: 26% proteins and BCAA
1 Fruity energy bar Red berries: Scrumptious and packed with fruit, with vitamins B1 and C
1 Amelix Orange peel: 33% almonds, soft texture, vitamins B1, B6 and E
1 Organic bar Banana - Date: 100% organic fruit, rich in vitamin B1 and gluten-free
* Source of zinc, which contributes to protecting cells against oxidative stress
**Vegan
The Organic, Amélix, Fruity energy, Authentic and Origin' bars complement the effects of the OVERSTIM.s sports drinks and energy gels and can be taken during a sporting activity, at regular intervals and in small doses.
Take the Protein bar as a snack before training, during the sporting activity or afterwards for recovery.