Energy gels can be used both when you work out and on the day of your event. They are designed to support your performance throughout the sporting activity or during tough stretches. Their liquid form is perfect for easy and effective absorption during a sporting activity, especially for certain sports where it might be difficult to eat, such as: running, cycling, triathlon or trail running.
What are the advantages of OVERSTIM.s energy gels?
The gels have many advantages:
They provide calories in the form of carbohydrates, which are the main energy source used during a sporting activity to ensure your performance
They contain sodium, vitamins and minerals to compensate for mineral losses from sweating
They are practical and easy to use during a sporting activity as their liquid texture does not require chewing. This will save you considerable time and concentration during your events
They are smaller and easy to carry
How do I use OVERSTIM.s energy gels?
Having the right product is not enough, it's also important to use it properly. Here are our 6 tips on how to use the energy gels during your sporting activity:
Use the gels during a sporting activity: take 1 gel every 45 minutes for a steady supply of energy
They are easy to take in small sips every few hundred metres
One trick is to take your gel before provision points so you can wash it down with 1 to 2 sips of plain water
Remember to test your gels when you train to better know their effects for the day of your event
Once finished, the gel can be closed by turning the cap
Protect the environment: hold on to your waste so you can put it in the bin
How to choose your OVERSTIM.s energy gel?
OVERSTIM.s offers a full range of energy gels that meet all your energy needs, whatever sports you practise, its duration or intensity.
Do you suffer from muscle problems during a sporting activity?
ANTIOXIDANT GEL is a source of magnesium, which will help you prevent muscle problems during a sporting activity. This gel has earned its name: it consists of vitamin E and Zinc, which are two powerful antioxidants that help protect your cells against oxidative stress.
ANTIOXIDANT GEL provides:
Gradual energy thanks to glucose and fructose
Antioxidants: vitamin E and Zinc
Vitamins to stimulate the energy metabolism: vitamins B1, B3, B6
Minerals: sodium and magnesium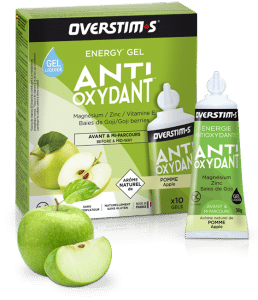 Do you practise an endurance sport, such as trail running, cycling, triathlon or running, and you're looking for a steady and effective supply of energy?
ENERGIX GEL is the endurance gel par excellence. It is specially formulated for prolonged sporting activities. This gel contains 3 sources of carbohydrates, vitamins and BCAA to ensure you have gradual and sustainable energy.
It provides:
Gradual energy and a moderate glycaemic index thanks to a combination of glucose, maltodextrins and fructose
Vitamin B6 which contributes to reducing fatigue
Plant-based BCAA (Branched-Chain Amino Acids)
ENERGIX GEL also comes in ORGANIC version with ingredients sourced from organic farming: acacia honey, turmeric, spirulina and lemon.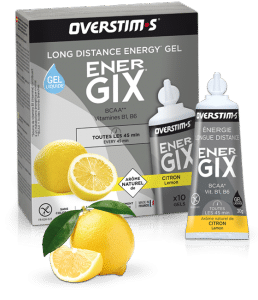 Do you need a pick-me-up for tough stretches and as you approach the finish line?
A true instant energy concentrate, the COUP DE FOUET energy gel is a must-have during an event at times of intense effort: tough stretches, climbing a mountain pass, and as you approach the finish line.
The highlights of the COUP DE FOUET gel:
Rapidly absorbed carbohydrates for instant energy
Naturally-sourced ingredients, such as royal jelly and acerola
Vitamins which contribute to good energy metabolism and reduce fatigue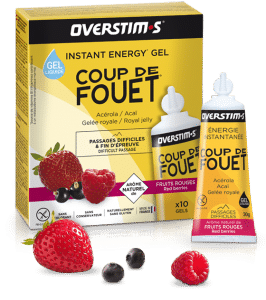 RED TONIC GEL, thanks to its combination of caffeine and ginseng, will be your ally for extreme sporting activities. Its mint-eucalyptus flavour brings intense freshness for a pleasantly cooling effect in the toughest moments.
RED TONIC provides:
Rapidly absorbed carbohydrates for instant energy
A natural duo: Guarana + Ginseng
Intense freshness in your mouth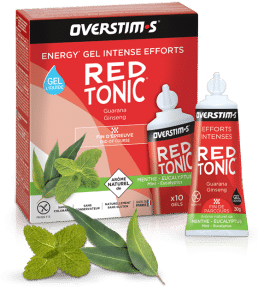 Do you practise a long-distance endurance sport with a nighttime section?
CAFEIN'GEL is an energy gel that contains caffeine. Nighttime outings and events taking place over several days are very gruelling on your body. Your energy gets drained and your concentration fades. This gel provides you with caffeine as well as vitamin C and B6 to reduce fatigue. Cafein'gel contains 75mg of naturally-sourced caffeine (Guarana) or the equivalent of a cup of espresso.
CAFEIN'GEL provides:
Rapidly absorbed carbohydrates for instant energy
Naturally-sourced caffeine, as Guarana
Vitamins C and B6 to reduce fatigue
A bracing sensation of intense freshness from the very first sip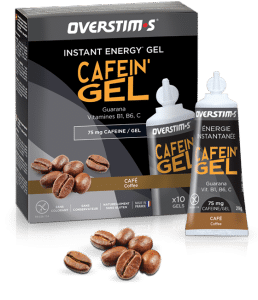 All OVERSTIM.s Gels have:
No artificial colourings
No preservatives
100% Natural flavours
Over 10 tasty flavours, such as lemon/lime, red berries, strawberry/banana, or salted butter caramel
And are made in France

OVERSTIM.s is innovating, with an eco-refill format that is practical and eco-friendly.
Just one eco-refill contains about 8 gels and helps you protect the environment by reducing waste. To use it, just pour the quantity of gel you want in your ECO-GEL-SOFT-FLASK and top up with some water. Then take the gel as usual, every 45 minutes.